The herbarium of Augustana College (officially "AUGIE") hosts more than 5,000 specimens of vascular plants, 300 bryophytes and collections of myxomycetes and fossil plants. Most of our vouchers were collected by students in the campus area or the field stations of the college between 1983 and 2012 and were prepared under the supervision of Prof. Bohan Dziadyk. However, we have specimens even from 1872, and we take particular pride on The Tulen Collection, dating back to the 1890s. The specimens are in the process of being digitized into the Consortium of Midwest Herbaria to become a durable resource serving the study of the local flora and the memory of the college.
Having an active herbarium on campus boosts the possibilities of plant science research. A significant part of current advances in botany is possible thanks to techniques such as DNA profiling, geo-referencing, big data analysis and citizen science initiatives that often rely on natural history collections.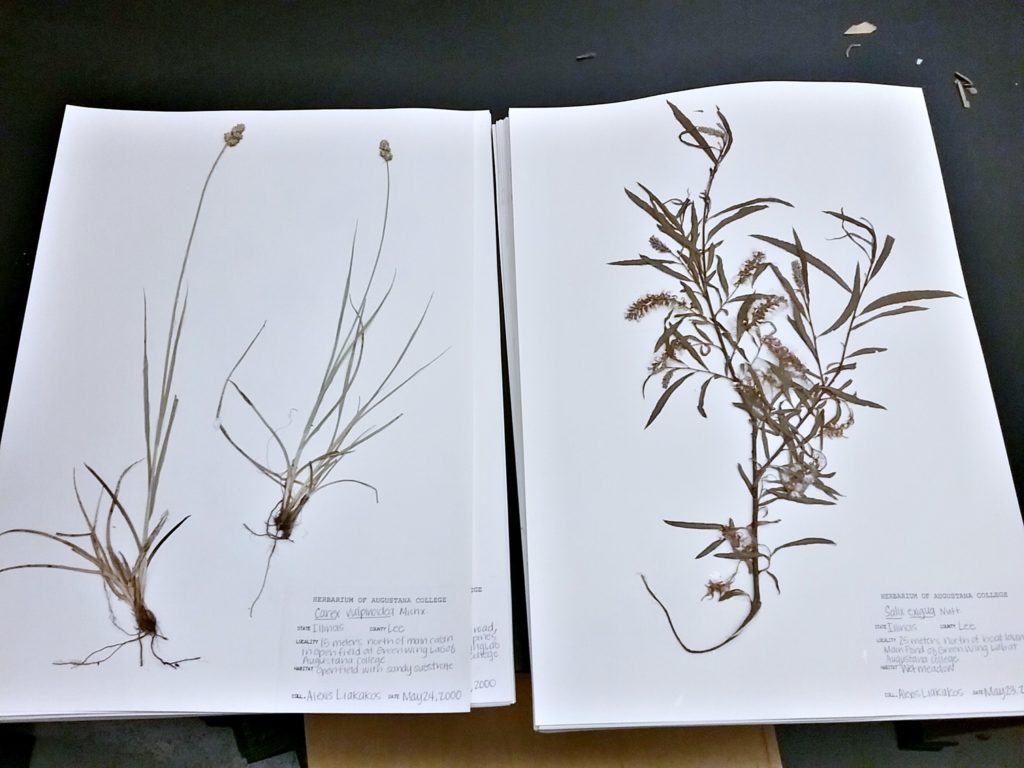 Herbaria are teaching tools as well. One of the most concerning problems of current biology teaching is the lack of contact between students and the natural word, a disconnection that is already understood as a severe impediment to train biologists who are competent at the organismal level. Herbaria have proved to be an invaluable resource to fight this impediment, capable of integrating new technologies with the traditional natural history approach. They can also support simultaneously several courses in different majors, such as Biology or Environmental Studies.
Thanks to a grant from the Faculty Research Committee of Augustana College our herbarium has begun its journey to being fully digital. Amanda Esparza (funded by the LSAMP-IINSPIRE program) has been coordinating the arrangement of our angiosperm collection according to the APG-IV classification and is leading the digitization process. It will be used by faculty and students as a research resource and will host a training program for students interested in natural history collections as a part of their professional development.
Some of our outcomes during 2017:
Reorganization and assessment of the angiosperm collection following APG-IV.
Beginning of the remounting of the Tulen collection
Exhibit at the Augustana Teaching Museum of Art: Herbarium Tales (during the winter term 2017-2018)
The herbarium officially became part of Index Herbariorum under the acronym "AUGIE"
The digitization process is already running; Amanda is preparing the handbook to train volunteers and assistants in the future
The herbarium and its history was featured during the annual meeting of the Augustana Historical Society
Our herbarium is the result of generations and students and faculty working together towards a common scientific enterprise. If you are a student of Augustana and are interested in our herbarium, contact me. There are multiple ways you can join this project, and the skills you will gain are useful in many biology-related careers.